04 05 2020
Service abroad … How does that work?
#invaroservice&supplies
A large part of our service team is working within the Netherlands. But of course, service is also provided to our foreign customers! We spoke to one of our service engineers, René Kuin, who can often be found across the border. Whether it's about installing a Rosematic in Azerbaijan, or a Furora in America. René can tell you all about it. Enough reason to ask him about this!
Can you briefly tell us about your background at Bercomex?
"I have been working at Bercomex for 25 years this year. I moved from the factory to the field service at a young age. Because of this I have been in many countries for installation, malfunctions and maintenance. For example in New Zealand, Australia, Japan, America and Europe. The last three years I have worked a lot on a project in Spain, at Aleia Roses, where I installed and optimized a Furora Rosa twice with a number of colleagues. Normally I go abroad for a job every one and a half months."
Can you tell us about a recent, interesting project you have installed abroad?
"Recently – just before the corona crisis – I went to Arcata in California at Sun Valley Group. This customer had bought a second-hand Furora to process the large amount of tulips faster. The machine arrived completely disassembled divided over three containers. We reassembled this machine on site. The customer always receives a sketch up drawing of how the installation will be placed on location well in advance, which also includes all sizes that we can use as a service department to put the installation in the right place."
How do you help customers on their way once the machine is installed?
"Ample time is taken to teach the customer all the intricacies of settings and adjustments, regardless of the language. Whether this is in Dutch, English or German, this always works fine."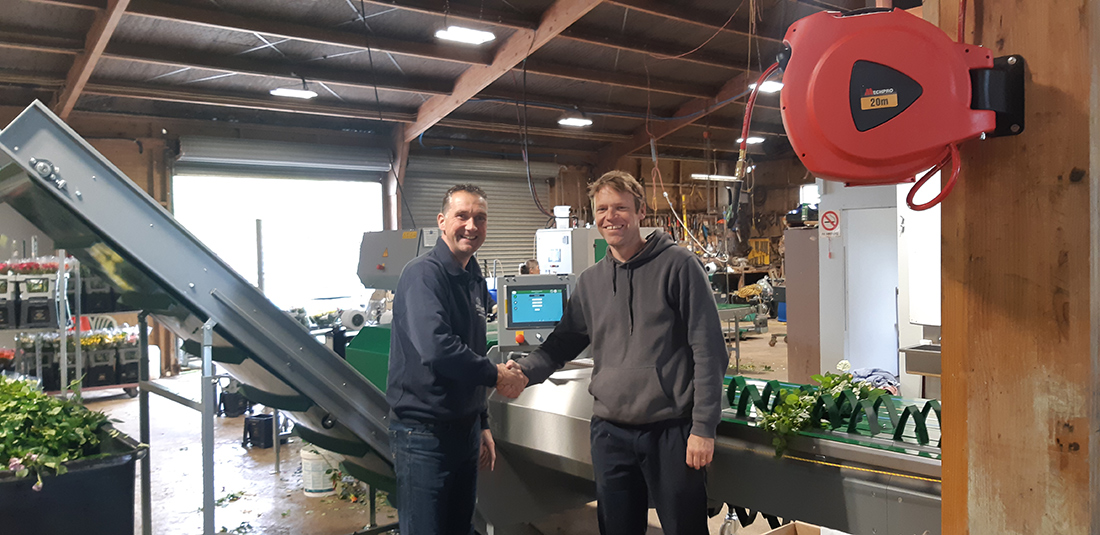 René and the customer after a nice delivery of a Flora Optima and a MultiFill in New Zealand.
Why is it important to provide regular maintenance?
"It is very important to have regular maintenance performed. If a machine is kept in good condition, it will last longer. Good maintenance prevents production downtime, of course no customer wants this. We have standard maintenance packages for various machines, but certainly with foreign customers we have timely contact about the status of the machine and the expected required parts. This also depends on the product that the customer processes with the machine and the duration of the customer's processing season."
What exactly do you do to the machines when you provide maintenance?
"This differs per machine, of course, but take the Furora as an example. Depending on the counter reading, the binders are completely disassembled and overhauled. The X-ray device is calibrated and adjusted as necessary. Bearings and belts are well analyzed for wear and replaced if necessary. Almost all our customers have a service contract, so we often perform a software update for both the control panel and the IPC, so that the customer is provided with the most recent software updates. We work through an entire maintenance protocol to ensure that all technicians check the machines for the same components. Altogether an intensive job which is – especially abroad – preferable to do with two people, especially abroad. This applies to both maintenance and installation. The advantage of this is that in a very short time a machine (Furora) is running and the customer can process his product."
Do you have a golden tip for our customers about machine maintenance?
"I don't know if it's a golden tip, haha. But I do have a few useful tips. First, clean your machines daily. Then you have less chance of malfunctions and prevent long-term maintenance. In addition, I also advise customers to watch with us during maintenance. Ask questions to keep yourself up to date on all parts. For example how you can replace and assemble them."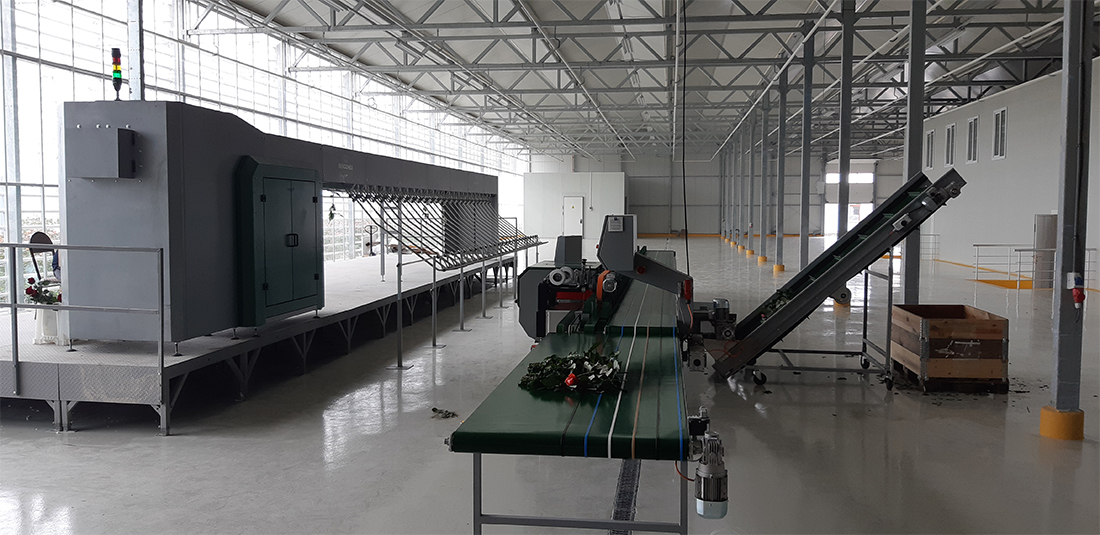 Installing a RoseMatic 2.0 and a Flora Optima in Azerbaijan.
What are the biggest benefits of remote service for the customer?
"With remote service, a lot of problems can be tackled or analyzed remotely, so that the customer can be operational with the machine again in a very short time. Camera images can be retrieved and analyzed to get better product processing. And updates can be easily carried out without the customer being affected."
How do customers experience the possibility of remote service?
"Customers experience the remote service as very pleasant. It is always more difficult to reach companies abroad and with remote service there is a fast response time and good help from afar. It also makes my work easier internationally. If some functionalities still need to be added during installation, this can be quickly adjusted with remote service."
Suppose a customer abroad has a malfunction and this cannot be resolved via remote service. What happens then?
"Should this happen, a mechanic will be asked whether he can travel to the relevant customer by plane or bus in the short term. Thanks to the good cooperation with our travel agency, we can act quickly and we can travel to the customer in the short term."
How do you see the development of remote service in the future?
"Remote service is going to play an increasingly important role. Customers want to be helped quickly and in the short term to get the production line up and running again quickly during breakdowns. Remote service is then essential, which will ensure that customers are operational again quickly."